---
Treatment Options
---
Fillings | Implant Restoration | Crowns | Dentures
---
Fillings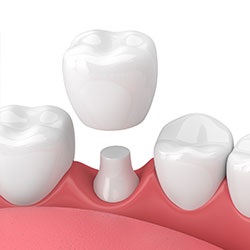 Traditional dental restoratives, or fillings, may include gold, porcelain, or composite. Newer dental fillings include ceramic and plastic compounds that mimic the appearance of natural teeth. These compounds, often called composite resins, are typically used on the front teeth where a natural appearance is important. There are two different kinds of fillings: direct and indirect. Direct fillings are fillings placed into a prepared cavity in a single visit. Indirect fillings generally require two or more visits. These fillings include inlays, and veneers fabricated with ceramics or composites.
---
Implant Restoration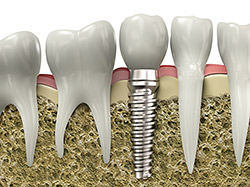 If you are missing teeth, it is crucial to replace them. Without all your teeth, chewing and eating can destabilize your bite and cause you discomfort. When teeth are missing, your mouth can shift and even cause your face to look older. Implants are a great way to replace your missing teeth, and if properly maintained, can last a lifetime!
An implant is a new tooth made of metal and porcelain that looks just like your natural tooth. It's composed of two main parts: one part is the titanium implant body that takes the place of the missing root, and the second part is the tooth-colored crown that is cemented on top of the implant. With implant treatment, you can smile confidently knowing no one will ever suspect you have a replacement tooth.
In addition to tooth replacement, implants may be used to anchor dentures, especially lower dentures that tend to shift when you talk or chew. For patients with removable partial dentures, implants can replace missing teeth so you have a more natural-looking smile.
---
Crowns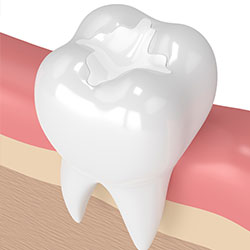 Crowns are a restorative procedure used to improve your tooth's shape or to strengthen a tooth. Crowns are most often used for teeth that are broken, worn, or have portions destroyed by tooth decay.
A crown is a "cap" cemented onto an existing tooth that usually covers the portion of your tooth above the gum line. In effect, the crown becomes your tooth's new outer surface. Crowns can be made of porcelain, metal, or both. Porcelain crowns are most often preferred because they mimic the translucency of natural teeth and are very strong.
Crowns or onlays (partial crowns) are needed when there is insufficient tooth strength remaining to hold a filling. Unlike fillings, which apply the restorative material directly into your mouth, a crown is fabricated away from your mouth. Your crown is created in a lab from your unique tooth impression, which allows a dental laboratory technician to examine all aspects of your bite and jaw movements. Your crown is then sculpted just for you so that your bite and jaw movements function normally once the crown is placed.
---
Dentures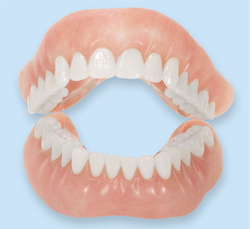 Dentures are natural-looking replacement teeth that are removable. There are two types of dentures: full and partial. Full dentures are given to patients when all of the natural teeth have been removed. Partial dentures are attached to a metal frame that is connected to your natural teeth and are used to fill in where permanent teeth have been removed. Just like natural teeth, dentures need to be properly cared for. Use a gentle cleanser to brush your dentures, always keep them moist when they're not in use, and be sure to keep your tongue and gums clean as well.