Cosmetic Dentistry Treatments
---
Frederick, MD Cosmetic Dentist
At Monocacy Valley Dentistry, your smile is our number one priority! As a premier dental practice serving the Frederick, MD area, we're proud to offer a wide variety of treatments to suit the unique needs of our patients. If you're looking to improve the appearance, health, and function of your smile, we offer a variety of cosmetic dental treatments to help you achieve and maintain the smile of your dreams. Working together, we'll help you achieve a beautiful, healthy new smile!
Complete Smile Makeover
Your smile is the first thing people notice about you, and it's one of your most important features. Dentistry is constantly evolving and dental treatments continue to improve, and with today's variety of advanced treatment options, achieving a healthy, beautiful smile is easy for patients of all ages.
Are you ready for a smile makeover?
You don't have to have cavities to get dental treatment – in fact, many people choose to improve the aesthetic appearance of their smile to improve their confidence and performance at home and at work. Almost anyone is a candidate for cosmetic treatment, and if you're considering it yourself, just ask yourself a few simple questions:
Do you hesitate when you smile?
Would you like to increase your self-confidence?
Do you want to look your best in social or professional situations?
Are you ready to reverse any dental imperfections you may have?
If you've answered yes to any of these questions, cosmetic dentistry may be the answer you've been looking for!
Cosmetic Dentistry is an Art and a Science
Every person and every smile is different – and at Monocacy Valley Dental, we are committed to helping you achieve your smile goals. Cosmetic dentistry is different from general dental care: it is both an art and science. By providing cosmetic dental care, we can offer smile enhancement, restoration, and maintenance treatments for optimal dental health. Using cutting-edge techniques and advanced materials, our office proudly offers you a beautiful, natural smile and all the benefits that come with it.
Don't settle for a smile you don't feel great about: feel more confident about your appearance with a new smile that is as beautiful as it is healthy. You no longer have to suffer from missing, chipped, discolored, or crooked teeth. Contact our practice today and schedule your smile makeover!
---
Cosmetic Dentistry Treatments
---
Veneers

Do you have gaps, chips, or stains in your smile that you're embarrassed to show, but you don't want to go through the hassle and expense of braces or Invisalign? Veneers can help. With veneers, you can easily correct your teeth's imperfections to help you have a more confident, beautiful smile. Veneers are natural-looking in appearance, making them the perfect option for patients wanting to make minor adjustments to the look and feel of their smile.
Veneers are thin, custom-made shells made from tooth-colored materials (such as porcelain) designed to cover the front side of your teeth. To prepare for veneers, your doctor will create a unique model of your teeth. This model is sent to the dental technician to create your veneers. Before placing your new veneers, your doctor may need to conservatively prepare your tooth to achieve the desired aesthetic result.
When your veneers are placed, you'll be pleased to see that they look like your natural teeth. While veneers are stain-resistant, your doctor may recommend that you avoid coffee, tea, red wine, and tobacco to maintain the beauty of your new smile.
---
Crowns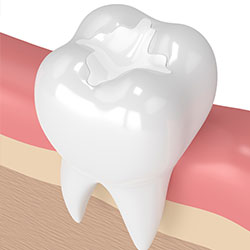 Crowns are a restorative procedure used to improve the shape and strength of a tooth. We'll often use crowns to treat teeth that are broken, worn down, or have suffered dental decay and cavities.
Essentially, a crown is a small "cap" cemented onto an existing tooth that usually covers the portion of your tooth above the gum line. In effect, the crown becomes your tooth's new outer surface. Crowns can be made of porcelain, metal, or both. Porcelain crowns are most often preferred because they mimic the translucency of natural teeth while maintaining excellent strength.
In some cases, the tooth may not be strong enough to support a filling – and in these cases, we'll use onlays or inlays. Unlike fillings, which apply the restorative material directly into your mouth, a crown is fabricated away from your mouth. Your crown is created in a lab from your unique tooth impression, which allows a dental laboratory technician to examine all aspects of your bite and jaw movements. Your crown is then sculpted to perfectly fit your mouth so that your bite and jaw movements function normally once the crown is placed.
---
Bridges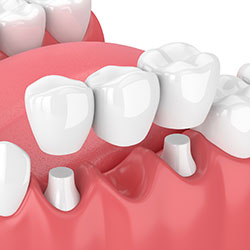 Bridges are similar to crowns, but instead of repairing a damaged tooth, they replace missing teeth. Bridges are important for helping to maintain facial shape, repair missing teeth, and minimize stress on your bite.
A bridge replaces missing teeth with artificial teeth, looks great, and literally bridges the gap where one or more teeth may have been. Your bridge can be made from gold, alloys, porcelain, or a combination of these materials and is bonded onto surrounding teeth for support.
The success of any bridge depends on its foundation — the other teeth, gums, or bone to which it is attached. Therefore, it's very important to keep your existing teeth, gums, and jaw healthy and strong. With good oral hygiene, a bridge can help you achieve a complete and beautiful smile.
---
Invisalign®

Invisalign is an orthodontic treatment that does away with the metal brackets and wires of braces, instead relying on a series of clear, removable plastic aligners to straighten teeth. The aligners fit directly onto the dental arch and are easy to take out and put back in, and they're virtually invisible when worn. Because you take the aligners out to eat, drink, brush, and floss, you can still maintain a normal diet and brushing teeth is a breeze – and because the aligners are transparent, almost no one will know you're straightening your teeth. Invisalign offers an effective, comfortable, and discreet option for many patients who wish to improve their smile!
---
Teeth Whitening
There are many products and techniques available for patients who want to achieve a brighter smile, and with so many options available, it can be difficult to choose the method that's best for you. The best way to begin any teeth-whitening regimen is to schedule an appointment and talk to Dr. Motz about the differences between in-office professional whitening and at-home whitening.
At-Home Teeth Whitening
Tray Whitening
Tray bleaching is a type of professional whitening that uses custom-made trays and whitening gel only available from our office. The whitening gel is placed in custom-fitted trays that fit perfectly over your teeth. As the peroxide in the gel breaks down, special chemicals called hydroxyradicals help whiten stained teeth. Unlike strips, this process whitens at the source, and the gel is specially formulated to maximize comfort. At-home professional tray whitening generally takes ten to 14 days, although you may notice results in as little as three to five days.
In-Office Teeth Whitening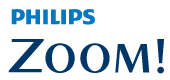 You deserve a bright, confident smile. Professional, in-office teeth whitening with Philips Zoom is safe, simple, and one of the fastest ways to improve the beauty of your smile! Plus, Philips Zoom is championed by dentists and patients as a pain-free, easy process.
Zoom WhiteSpeed Light-Activated Whitening System
The Zoom Chairside Light-Activated Gel accelerates and enhances the whitening process, delivering dramatic results you're sure to love. With the all-new Whitening LED Accelerator, your teeth can whiten up to eight shades lighter in just 45 minutes!
The gel and light work together gently to break up the stain particles and discoloration within your teeth, all while leaving the crystalline structure of your healthy tooth unchanged. After just three 15-minute applications in one hour, you'll rinse your mouth and complete the treatment, leaving you with a brighter, whiter smile.
Is Philips Zoom right for you?
Virtually anyone can benefit from teeth whitening, and we'll work with you to help select the method that's best for your unique situation. Generally, Zoom is most effective in treating yellow staining from aging, tobacco, dark cola, tea, coffee, or red wine. If your teeth have gray shading from tetracycline or other chemicals, you may still see improved results, though they may be less dramatic. In any case, we'll help you choose the best whitening option for the most dramatic results.
Contact Your Frederick, MD Cosmetic Dentist
A beautiful, sparkling white smile can revitalize your outlook on life – and if you're ready to achieve the smile of your dreams, the team at Monocacy Valley Dental would be thrilled to help. Feel free to call us at (301) 698-0044 with any questions or reach out to us at our contact page to schedule an appointment. We're excited to help you achieve a gorgeous new smile through expert cosmetic dental treatment!